BUD Fund ESP ("Dedicated Fund on Branding, Upgrading and Domestic Sales – Enterprise Support Programme") has two programmes as follows:
BUD Mainland & FTA and IPPA Programme
Government grants 50% of the project
Initial payment is 75% of the granted fund
Separate company bank account not required
Maximum grant for each project is HKD 1 million
Maximum cumulative grant is HKD 7 million
Applicable on mainland China and Free Trade Agreement regions
How to apply the BUD Fund?
BizMagnet provides professional BUD consultation service. This consists of 4 steps: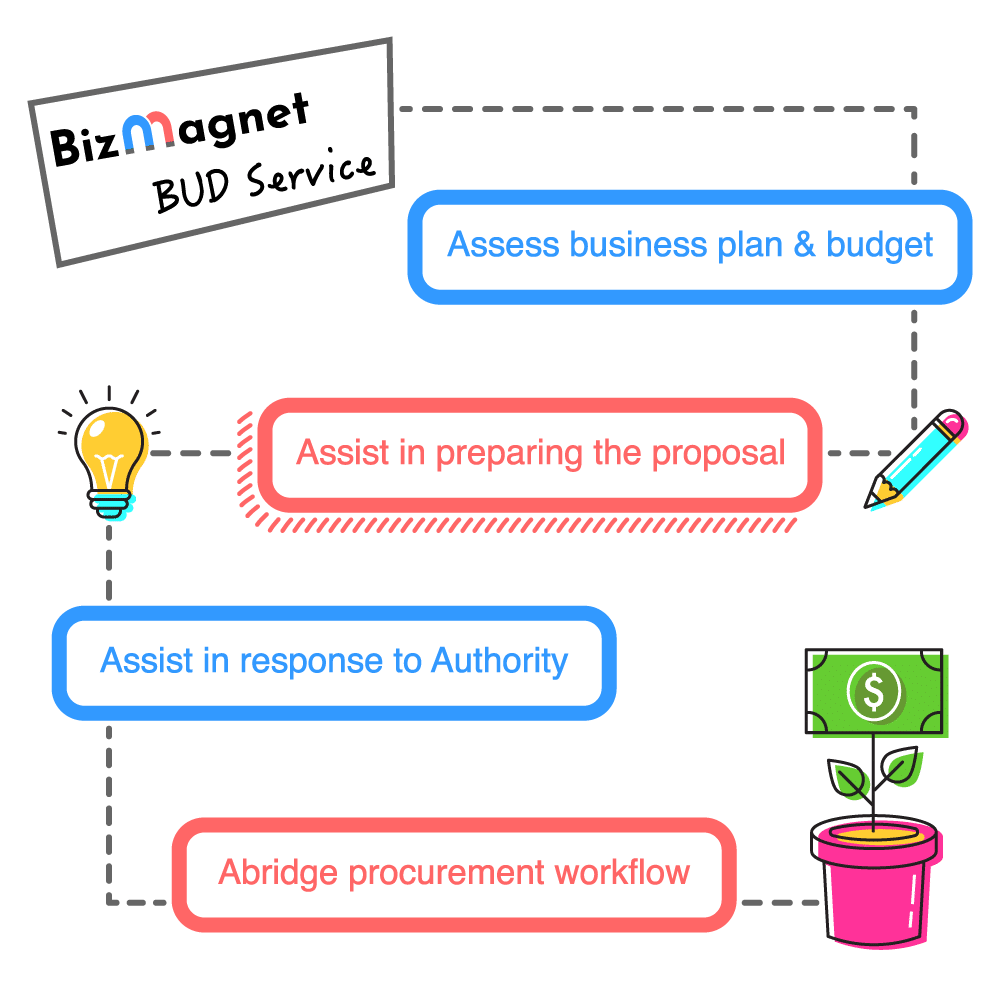 4 steps to apply the BUD Fund:
Assess the business plan and budget

BizMagnet will first assess the holistic business plan with the budget plan to make sure it is reasonable for the BUD Office.

Assist in preparing the application proposal

We will prepare all required documents for the BUD application, including the proposal.

Assist in response to the BUD Office

Once we submit the application, the BUD Office will inquire for further explanation.

Abridge the procurement workflow

Procurement should start after successful application to make sure the reimbursement alright.
For brief BUD Fund information, please refer to BUD Fund FAQ
For the detail, please take reference to BUD Fund application – A complete guide 2020
Reference: https://www.bud.hkpc.org/
BUD Fund statistic 2023

The Government released some data of the BUD Fund on 8th May 2023, and BizMagnet BUD Fund consultant is about to share. The BUD Fund was established in June 2012. Up to Feb 2023, there are about 5,700 applications approved and 4,100 enterprises reimbursed. The total released fund is about 3.4 billion HKD. In average, …

Read more

What is a Cover Bid?

The Competition Commission lodged a case on 22nd March 2023 in the Competition Tribunal against 4 IT companies. The case told that these companies unfairly obtained 189 projects in "D-biz" with cover bids and the corresponding amount is about 13 million dollars. This is the very first case, and what is cover bidding? Cover bidding …

Read more

Budget 2023: Corporate

Financial secretary Paul Chan announced the first financial budget after normalcy. As the deficit is serious, many measures have been cut or cancelled. We have the summary here: BizMagnet government fund consultant helps Hong Kong companies to apply for TVP, BUD Fund and EMF etc. We also recommend quality suppliers to help you to brand, upgrade and sell. Related posts: …

Read more