As the implementer of the BUD Fund, the Hong Kong Productivity Council occasionally invites enterprises to share the successful BUD experience. BizMagnet BUD Consultant reviewed the story of On Hing Metal Die-casting Factory, presented by Eric Fung, the Business Development Director. On Hing applied for the BUD Fund Mainland Programme in 2016 for the first time, Eric was interviewed again in 2019 and shared his BUD experience and how he accepted the challenge of China-US trade war.
Upgrade the manufacturing Transform the business
Eric Fund, the 3rd generation owner of On Hing Metal, took the management in 2007 and found a lot of problems. Inflating cost, high customer concentration and poor finance, the problem surfaced in 2014 and revenue declined. Eric determined to reform the company to enhance productivity and broaden customer base. In 2016, Eric applied for the BUD Fund for the first time. The factory changed manual machines to automating ones, on the other hand, changed the OEM business model to ODM and B2C. This broadened much the client base.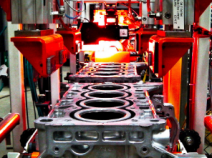 Promotion both online and offline
Eric applied for the ASEAN Programme (now FTA Programme) which launched in 2018. The factory participated in exhibitions in Shanghai, Malaysia, Singapore etc to promote the brand for more overseas clients. Besides the traditional marketing channel, the factory also advertised on Baidu search engine, Alibaba platform, Youku video platform etc in mainland China, as well as YouTube for overseas marketing. An old die casting factory became a model of digital marketing, all started from Eric's determination.
Further reading: BUD Successful: Establishment in mainland China
Market diversification in China-US conflict
Since the China-US trade war in 2018, the factories in mainland China were under unprecedented pressure (not yet the influence of Hong Kong protest in 2019, COVID-19 and the national security law in 2020). Eric planned to establish factories in Malaysia and Thailand to spread the risk of China policy. The BUD Fund FTA Programme supports Hong Kong companies to expand in those economies signed the free trade agreement with HK. Malaysia and Thailand are both ASEAN member states and therefore the target markets of FTA Programme.
Related report: 港五金廠:寧願分散市場 (Chinese only)
BUD Consultant help you transform in adversity
When it is the blossoming time, everyone looks for business opportunity to store up grains. Once the adversity comes, it is the time to defend and change. The objective of the BUD Fund is to help Hong Kong companies to upgrade and transform. The successful story of On Hing Factory told us that we can be great again with determination even it is the worst time. A BUD Consultant is a professional to facilitate client's BUD application and reduce the failure chance. If you think this is the right time to change and you need some business fund, please contact BizMagnet
Ref:企業案例分享(1) | 安興五金壓鑄廠企業發展總監馮智麟先生 (Chinese only)